Mario Kart Tour Bot is a robot for Mario Kar Tour to auto play the game on Android 7.0+ system. It supports auto farming every cup and every tour in Mario Kart Tour. Now Mario Kart New Year 2021 tour has introduced in the game. Run Mario Kart Tour Bot to auto play the game for you!

Video Demo of Mario Kart Tour Bot 
Mario Kart Tour Bot Feature
- Auto Farm Cup ( including the latest);
- Auto Farm Gold;
- Auto Collect Grand Stars
- Support Android 7.0+;
- Support All resolution;
- No root
How do You Auto Farm Mario Kart Tour 2021 New Year's Tour?
1. Download and install the Game bots app on Android phone first. 
2. Download Mario Kart Tour Bot from Game bots. 
Note: Need to allow floating window and accessibility permission for Game Bots. Otherwise, it won't work over on Mario Kart Tour official app..
3. Open and chanage Mario Kart Tour Settings.
Note: Navigate Menu > Settings> to set your Mario Kart Tour as the picture shown. Check [About] on Mario Kart Tour Bot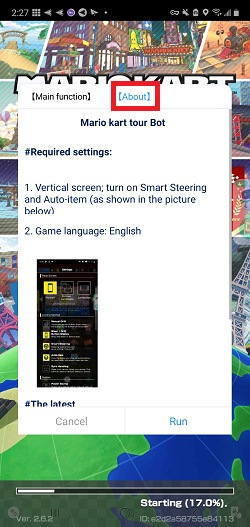 4.  Navigate to New Year's 2021 and set Mario Kart Tour Bot as you wish.
Under [Choose a cup] Mode, Mario Kart Tour Bot can auto play one course continuously for coins without a stop. Remember to move to New Year's 2021 you would like the bot to play in advance, and select the course position on Mario Kart Tour Bot panel.

Take advantage of 50 CC that is the recommend speed after we test. Under 50 CC, Mario Kart Bot has a high winning rate than others. Therefore, we recommend that. But if you would like other speed, change it as you wish.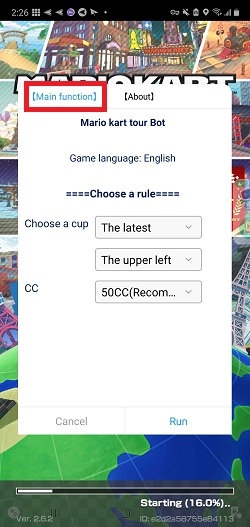 5. Run Mario Kart Bot and wait a while.
You are able to check Mario Kart Tour Bot working status in the upper left corner after running it.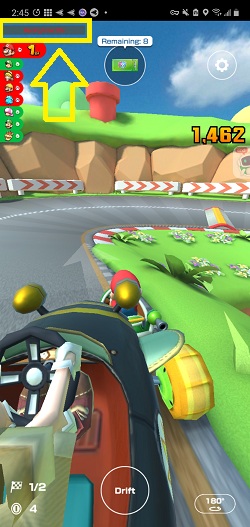 6. Enjoy Mario Kart Tour Bot automactically working for New Year's 2021 Tour. 
Notice: If you haven't passed all cups, let Mario Kart Bot pass them for you. Configure Mario Kart Bot [The lastest Mode] to go through all the cups automatically where necessary.
Feedback
If having suggestions and problems about Mario Kart Tour Bot , please contact Game Bots team: gamebots.run@gmail.com
FAQ
1. Solutions to Game Bots Crash
2. Why does Game Bots Need Those Phone Permissions?
3. How to Use Game Bots in the Background / with Locked Screens?