When using Summoners War Bot and running into problems, please feed back problems to Game Bots team immediately. Maybe some people don't know how to do it effectively. Don't worry. Here is a tutorial about how to feed back Summoners War Bot problems. Have a look. 
How to Feed back Effectively when Meeting Problems on Summoners War Bot?
1. Please tap the floating icon to stop Summoners War Bot when you run Summoners War Bot but it can't work normally, 

2. Open the Game Bots App.
3. Go into Summoners War Bot detail page.
4. Tap the "!" icon in the upper right corner,  and then straight press "Open Email". (Ignore the steps on Email Feedback page.)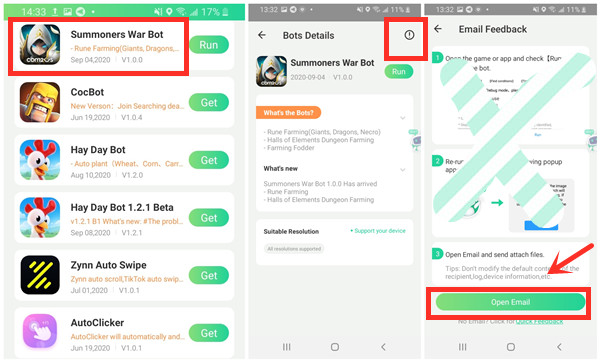 5. There will be an email with a log file and info of your devices. Please keep them because Game Bots team needs them to check the problem for you.
6. Please text the problem you meet in detail so we can know what happened on your devices.
7. If you can attach the problem video, it is better as we can check it more vividly and know what the problem exactly.
8. Send the emails to us.
In one word, the more details you can give about the problem, Team can check the problem more quickly.  Thanks for your paitence in advance.
If you need help, please contact us: gamebots.run@gmail.com