Summoners War Halloween Pumpkin Event takes place from Oct. 22nd 7pm PDT - Nov. 15th 6:59am PST. Have you get a leg up during the event right now? Have you felt a little tired and look for a helper to get pumpkins automatically for you? If yes, check out the following to take advantages with Summoners War Bot in Summoners War Halloween Event!

What is Summoners War Bot?
Summoner War Bot is a script or robot for Summoners War on Android System 7+, which is a helper for players to automatically play Summoners War. It has three fundamental feature including: automatically complete Dungeons for Runes, automatically clear stages in the Scenario for upgrading material monsters( also called fodder) and finish Daily Missions releated to Dungeon.

Features of Summoners War Bot
- Rune Farming(Giants, Dragons, Necro)
- Daily Mission
- Halls of Elements Dungeon Farming
- Farming Fodder (Scenario)
- Auto-Fodder switching
- Rune Filter system
- Waiting for energy replenishment to continue farming
- Real-time statistical income
- Support Global and China Server (Will add more servers)
- Support Android 7.0+ systems
- All resolution support
How to Get More Pumpkins with Summoners War Bot in Summoners War Halloween Pumpkin Event?
As Summoners War Bot can effortlessly assist players to finish the mission "Enter the Scenario 15/30/50 times" or "Enter the Cairos Dungeon 15/30/50 times" to get pumpkins during the event, applying Summoners War Bot when your phone is idle is a great choice to take advantages than other players.

1. Download and install the Gamebots app on Android phone first.
2. Download Summoners War Bot from Gamebots.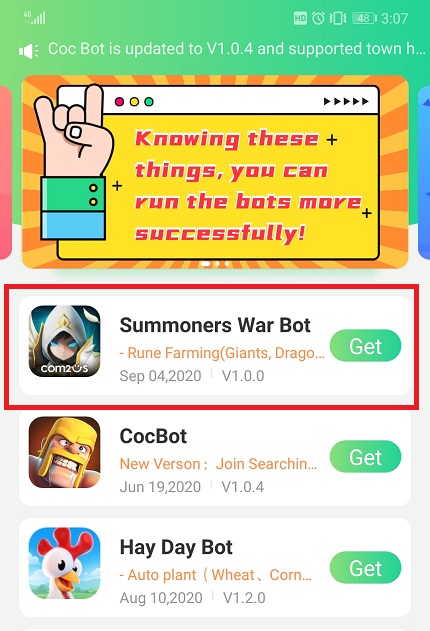 3. Use Summoners War Bot over Summoners War official app.
>>> How to Customize Summoners War Bot
4. Enjoy the game.
Note: Pumpkin rewards will be available until Nov. 16th 6:59am PST after the event finishes. The rewards depends on how many pumpkins you collect during the event. Players can select one reward from two reward forms. It denotes that players can choose one reward from No.1 form and one reward from No.2.)