Asphat 9: Legends Bot V1.1.0 Beta is live on Game Bots. Now Asphalt 9 Bot can auto farm multip-player mode and my career mode for players on Android 7.0. Run the newest Asphat 9 Legends Bot in Game Bots!

What are Features in Asphalt 9: Legends Bot V1.1.0 Beta?
1. Compatibale with Multi-Player Mode;
2. Fixed bugs in My Career Mode;
3. Optimized UI.
How do you Use Asphalt 9: Legends Bot?
1. Download and install the Gamebots app on Android phone first.
>>> https://gamebots.run/
2. Get Asphalt 9: Legends Bot V1.1.0 Beta from Gamebots. There are two versions on Game Bots. Select the newest version.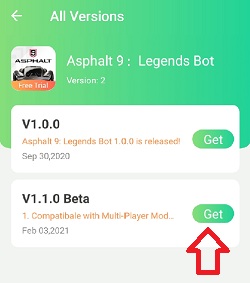 3. Log in your Game Bots account. (Register one with your email if you don't have)
4. Allow permission for Game Bots. After you allow them, a floating window will appear on your screen. (Why does Game Bots Need Those Phone Permissions?)
5. Adjust your fields based on the [About] requirements and set Asphalt 9: Legends Bot as you wish.
6. Run Asphalt 9: Legned Bot to automatically play the game for you!
Feedback
If you need help or meet any problems, please email us. We will do our best to solve it: gamebots.run@gmail.com.
Game Bots FAQ
1. Solutions to Game Bots Crash
2. How to Use Game Bots in the Background / with Locked Screens?