Using COC Android Bot in the correct way must bring you huge advantages right away. Check below to get more tips.
1. Video Tutorial about COC Bot:
2. Text Tutorial about COC Bot:
* Tips on enjoying COC Bot better:
- In-Game language is English in case unknown errors appear.
- Town level is higher than 2 to get better experience. 
- Android system 7.0 +. If lower than 7.0, please play COC Bot on Windows PC. (See below to get more information)
* How to Use COC Bot on Android Mobiles
1. Download and install the Game bots app on Android phone first.
2. Log in your game bots account. ( Free register with your email.) 
3. Find COC Bot from Game bots.
4. Tap "Get" near COC Bot.
Notice: Everybody has a 15-min free trial every 24 hours to enjoy COC Bot.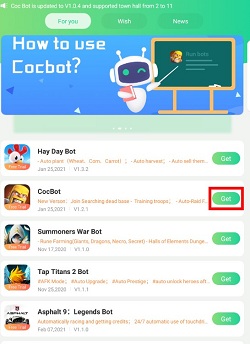 5. Select Clash of Clans App for COC Bot.
6. Allow permission to run COC Bot working over COC. (Why does Game Bots Need Those Phone Permissions?)
7. Open COC automatically and a floating green bot window appears.
8. Ajust the in-game language as English in case unknown errors appear.
9. Tap COC Bot [Main Function] and select the town level you are in.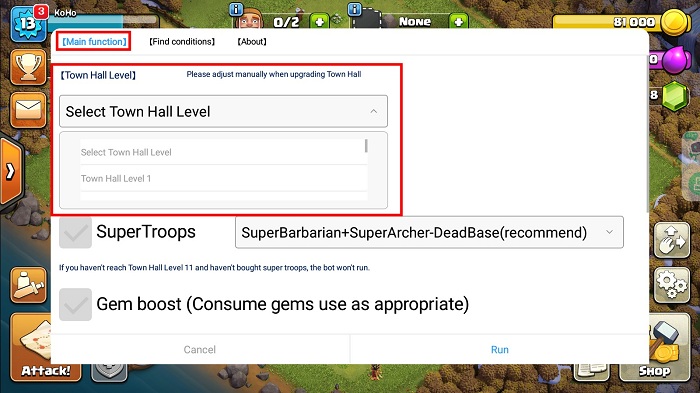 10. And then you press "Run" to see how COC Bot works if it is your first time to use COC Bot.
11. You are able to customize COC Bot if you like before tapping "Run" to auto farm the game. 
For example:

A. Change Troops configuration on [Main Function].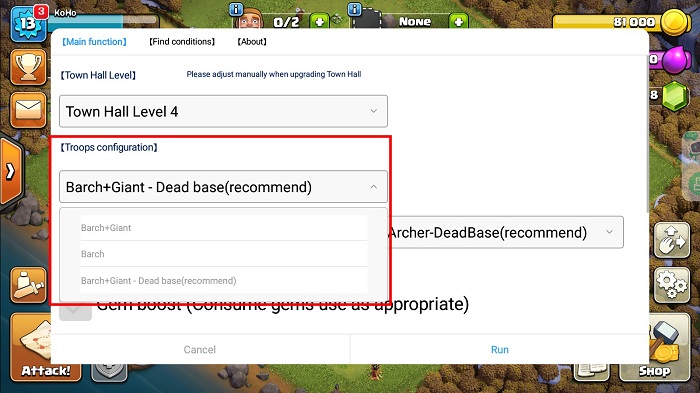 B. Configure Super Troops on [Main Funciton] if you have Super Troops.
If you don't have them, don't tick this box!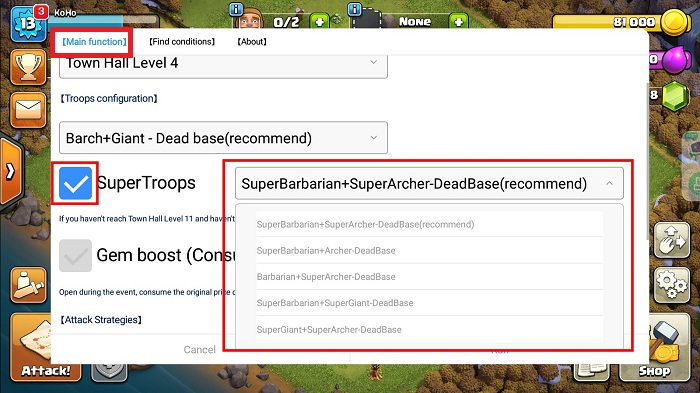 C. When Gem Boost Event starts, remember to tick Gem Boost feature on COC Bot. COC Bot can automatically play it for you.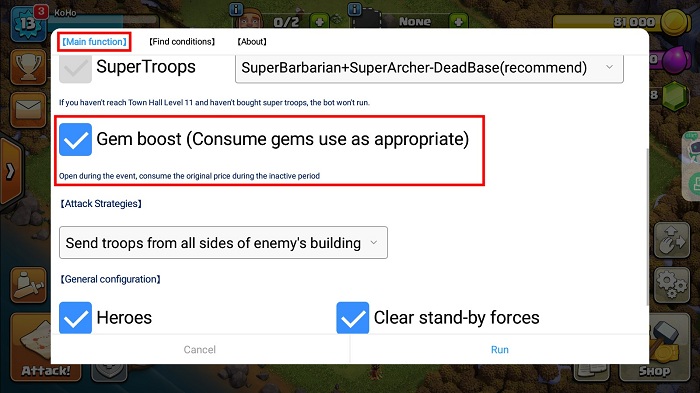 D. Select the way COC Bot attacks other clans.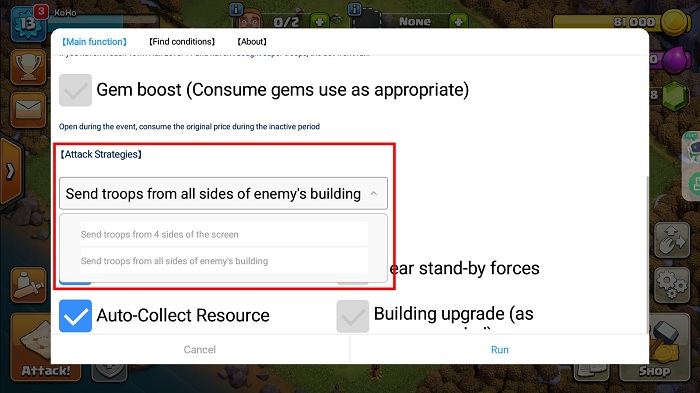 E. If you would like COC Bot to clean the stand-by forces and upgrade building automatically, you could tick those features here.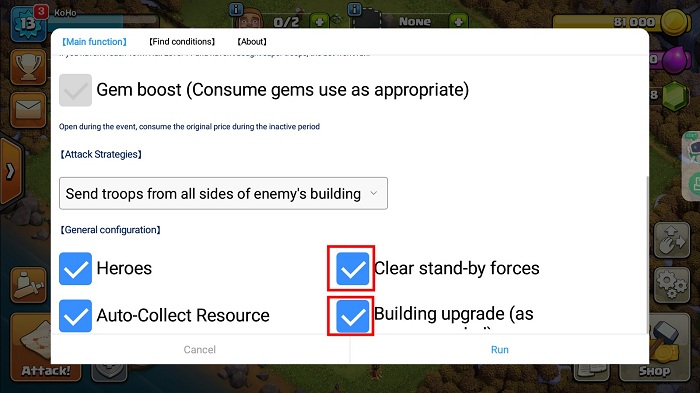 Notice: When you don't need those features, tick it again to cancel them. 
12. Remember to press "Run" to make your customized function take effect.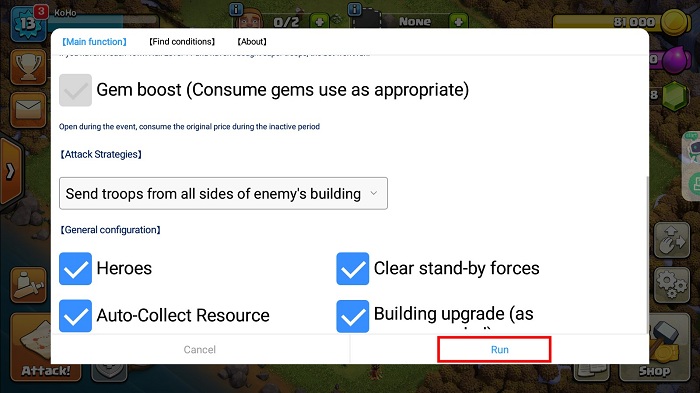 If you would like to stop COC Bot, press the floating window again.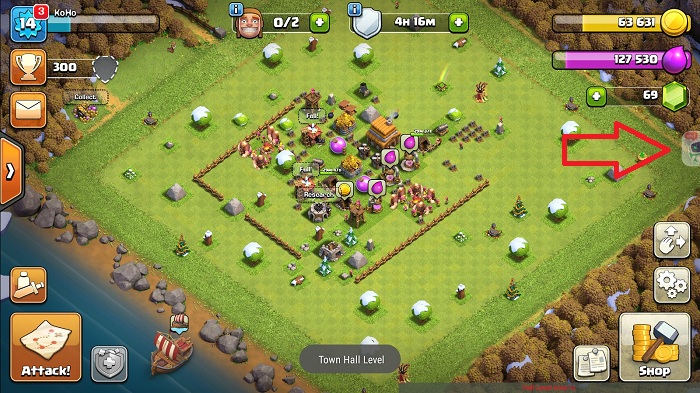 > Use COC Bot in the background and locked screen:
Run Clash of Clans Bot (COC Bot) in the Background and Locked Screens
* How to Play COC Bot on Windows PC
1. Install LD Player (Android 7.1) on PC.

2. Download Game Bots and COC on LD Players.
There is Play Store on LD players to download COC.
3. After installing Game Bots and COC, you will see them on your LD Player Home Page.

4. Play COC and COC Bot the same as Android devices!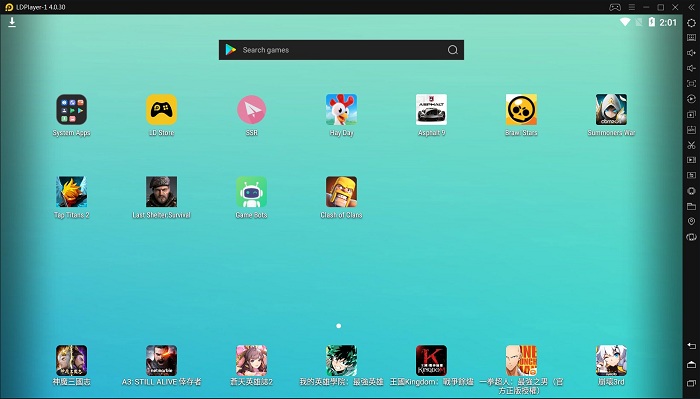 > Run multiple COC Bots at the same time on PC:
How do You Play Multiple Clash of Clans Bots (COC Bots) on PC?
3. Feedback
If you need any help or meet any problems, please feel free to tell us: gamebots.run@gmail.com