[Update COC Bot V1.3.0: Support Town Hall Level 14 and Chinese]
Clash and Clans Bot (COC Bot) is a 100% working and safe Android script and robot for Clash of Clans in 2021. It is developed by Game Bots Team, which is dedicated to creating and improving better game experience for players. 

COC Bot works over Clash and Clans official app and simulate players' gestures to play the game so it is safe to use. A  large amount of players have automatically enjoyed enormous resources with COC Bot as it can automatically collect resources, train troops, automatically defeat and even intelligently search dead bases for players.  In 2021, COC Bot continues taking those features for players!

[Clash of Clans Bot Necessability in 2021]
In Clash of Clans, recources are vital for every Chief to train troops, attack other clans, unlock new features and upgrade the base. Taking and waiting hours to collect recources and train troops to fight and get resource rewards are the key gameplay in Clash of Clans. 

If your COC is still running and playing the game even when you are working, studying and sleeping, you can receive many resources and speed up the progoress. Therefore, Clash of Clans Bot (COC Bot) is developed to help players.
Save Time and Energy
Clash and Clans Bot (COC Bot) can run the game when you are busy, and automatically represent you to raid, colloect recources, train troops and protect your clans all the time.
Seize opportunities to gain more rewards
Clan and Clans Bot ( COC Bot) searches ideal clans and dead bases for players. Seize every chance to gain more rewards for Chief at any time and anywhere.
[Clash and Clans Bot Features]
- Auto Farm Clash of Clans for Level 2 - Level 13
- Auto Play Clash of Clans for Level 2 - Level 13
- Auto Train Troops
- Auto Train Super Troops.
- Auto Collect Resources ( Coins/Elixir)
- Auto Search Dead Base
- Auto Search ideal clans
- Auto Raid
- Auto Search Loot
- Auto Deploy troops
- Auto Attack Clans
- Auto Collect Bonus
- Auto protect Chief Clan
- Auto Clean stand-by forces
- Support Gem Boost Event
- Support Language English
- Support All Resolutions of Android 7+ system
[Clash and Clans Bot (COC Bot) 2021 Tutorial]
We will introduce how to use COC Bot on Android first because the process of using COC Bot on PC is the same in 2021.
If you are intersted in how to use COC Bot in the background and locked screen, see:
Run Clash of Clans Bot (COC Bot) in the Background and Locked Screens
[COC Bot on Android]
1. Download and install the Game bots app on Android phone first.
2. Download COC Bot from Game bots.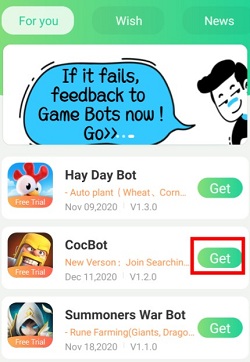 3. Log in your Game Bots account. (Register one with your email if you don't have)
4.  Allow permission for Game Bots.
After you allow them, a floating window will appear on your screen.
Note: Need to allow floating window and accessibility permission for Game Bots, or it won't work over on COC official app.
5. Tap "Free trial" or purchase COC Bot to enjoy it continuously.
Note: Every users can enjoy a 15-min free trial every 24 hours.
6. Open Clash of Clans app and tap COC Bot floating button.
7.  Change the game languange into English and empty your barracks for COC. 
See more on COC Bot [About] and [Main Function] if you need.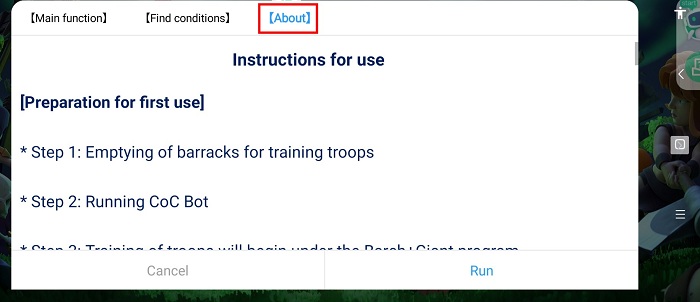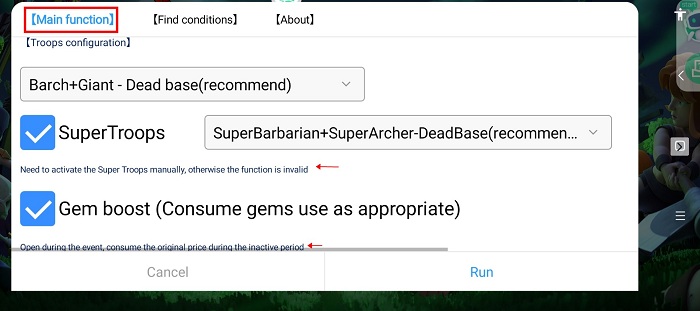 8. Select the town level you are in first and customize your COC Bot. 
Note: we recommend that use the default settings of COC Bot and see what it is like for the first time after you select the town level.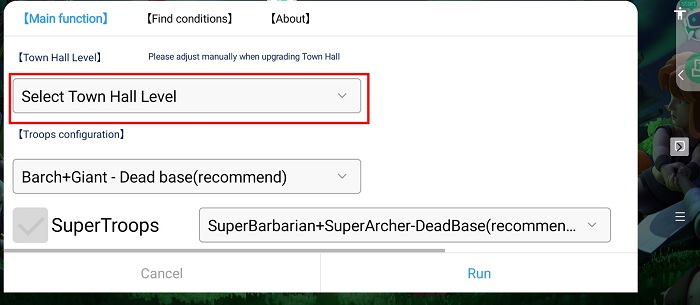 9. After you set COC Bot, run it to make it work.
10. Wait a while and the bot will run for you.
11. Tap the floating icon to stop the bot when necessary.
[COC Bot on PC]
We use LDPlayer (4.0 Android 7.1) emulator as an example. LDPlayer is an Android emulator software on PC.

Download LDPlayer: 
1. Install LD Player on your computer.
2. Open it to install Clash of Clans and Game Bots.
LDplayers has Google play to install games.
3. Open Game Bots to get COC Bot.
4. The rest is as the way shown above to use COC Bot on Anroid.
As LD players supports mulitple emulators, when you have the need to run more COC Bot in 2021, check:
How do You Play Multiple Clash of Clans Bots (COC Bots) on PC?
If you need any help, please contact: gamebots.run@gmail.com
Game Bots FAQ