Summoners War Mission Event has started. It lasts until Dec 13th. Working with your Summoners War friends to get the rewards together is the main work for summoners. Because part of missions in this event can be completed by Summoners War Bot, it is a great time to use it for a big advantage for you and your friend. Head over to Game Bots and enjoy this fantastic and powerful robot for the game!

Summoners War Bot Feature
- Autoplay Arena, Trail of Ascension and Cairos Dungeon
- Rune Farming(Giants, Dragons, Necro, Secret, Halls of Elements Dungeon)
- Rune Filter system
- Farming Fodder (materials monsters)
- Auto-Fodder switching
- Daily Mission
- Waiting for energy replenishment to continue farming
- Real-time statistical income
- Support Global, China, Asia, Europe, Japan and Korea Servers
- Support Android 7.0+ systems
- All resolution support
- Support Android emulators on PC
Notice: run bots under the main page of Summoners War and English enviroment of the game.
How to Enter the Mission Event?
Before you use Summoners War Bot, you need to know how to enter the event and collect the rewards.
You need to create a group with Summoners War friends first on Mission Event page, which is also a place that players collect the rewards after finishing Individual Mission, Party Member Mission and Bonus Mission.
Location: Tap Event floating button> Mission Event page > Scroll it down to build up a group or collect rewards on Summoners War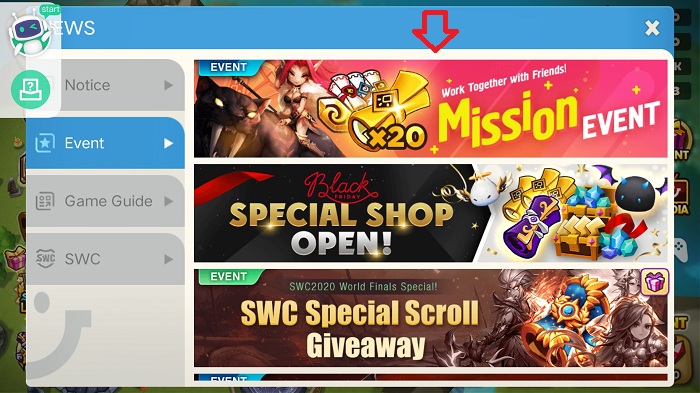 Play Summoners War Mission Event with Summoners War Bot
1. Download and install the Game bots app on Android phone first.
2. Log in your Game Bot account before downloading Summoners War Bot from Game bots.
If you have Game Bots account, please log in. If you don't have one, please sign up for it before you get Summoners War Bot
3. Grant permission for Summoners War Bot.
Need to allow floating window and accessibility permission for Game Bots. Otherwise, it won't work over on Summoners War official app.
4. Tap "Free trial" or purchase Summoners War Bot to enjoy it continuously.
Note: Every users can enjoy a 30-min free trial every 24 hours.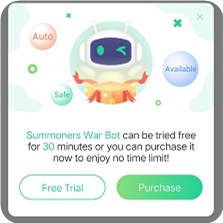 5. Open Summoners War app and customize Summoners War Bot.
Select the server and customize the bot. See the guide to customize Summoners War Bot if you need: Summoners War Bot Tutorial - Summoners War Script Android Tutorial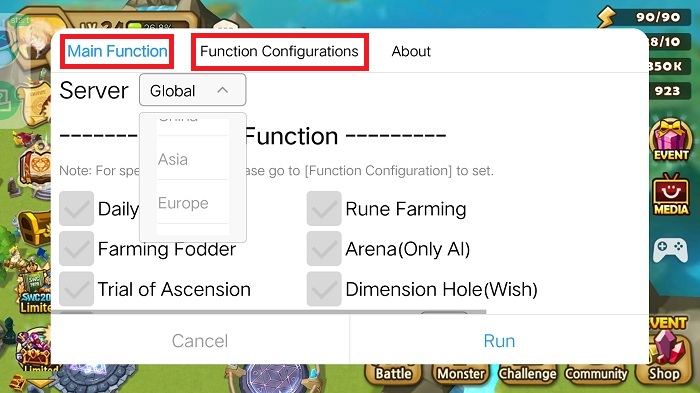 6. Wait a moment for Summoners War Bot working.
Please go to the main page of Summoners War first and then run the bot.
7. Enjoy Summoners War Auto farming Bot for Summoners War Mission Event with your friend!
(If you would like to run Summoners War Bot on PC ,check Use Summoners War Auto Farm Bot on PC )
Feedback

We are considering whether you need Summoners War Bot for Dimension Hole. Please email us how you would like this feature: gamebots.run@gmail.com
FAQ
1. Solutions to Game Bots Crash
2. How to Use Game Bot Correctly