To celebrate the launch of SWC2020 OFFICIAL M/V " WAR IS MY FATE" , Summoners War Viewing Event is underway. Players can win rewards via viewing and sharing the M/V, which lasts until Nov. 12th 6:59 AM PST. It is simple and easy to get rewards. Don't miss the chance to get benefits. Check out below the page how to join the event and get rewards.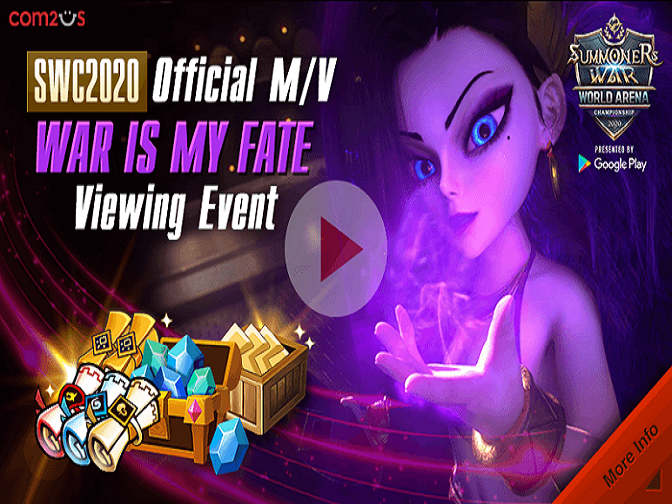 Expecting to get more benefits via automating Summoners War, Summoners War Bot is your best helper! Automatically upgrade material monsters, auto-combat and filter runes in Dungeons, and auto-complete Daily Missions.

What are Rewards of SW Viewing Event?
Rewards are different and various as there are two seperate parts of Summoners War Viewing Event. One is viewing Youtube video "WAR IS MY FATE" and the other is sharing the video event.
- Rewards of Viewing:
[300,000 Mana Stones + 1 Mystical Scroll] will be sent to all servers Summoners when the music video reaches 1 million views.
- Rewards of Sharing:
[Participation Reward: 100,000 Mana Stones + 100 Energy + 1 Mystical Scroll] will be distrubed by participants
[500 Lucky Draw Rewards: Attribute Scrolls (One of each Fire, Water and Wind] will be shared to lucky winners.
How do you Join the Event and Get Rewards?
1. For joining viewing Event:
As Summoners War counts the views based on this video link, please watch the M/V here.

2. For sharing Event:
Step 1: Watch the "WAR IS MY FATE" video and share it with the required hashtags mentioned below on your social media as a public post.
* Required 4 hashtags: #Summonerswar #SWC2020 #SWC2020MV #Warismyfate
Step 2: Fill this form and verify your event participation.
* Note: Only sharing without filling out the form will not be counted as participated. Please check that you provide an valid URL, entering the correct nickname of your SW and post with the required hashtags without inappropriate content in case you are nullified due to them.
* Tips: Your chance of winning the reward will be increased when you tag your friends on the post you shared the video. You can participate in the Sharing Event once, and the reward can be granted once per account.