To increase storage of Hay Day buildings like barn and silo is one of the most crucial work. If players don't raise them, produce will not be collected and sold to others. 
As it requires rare building materials like bolts, duct tapes, planks, nails, screws, etc to expand buildings, how to collect them fast is a must-known thing.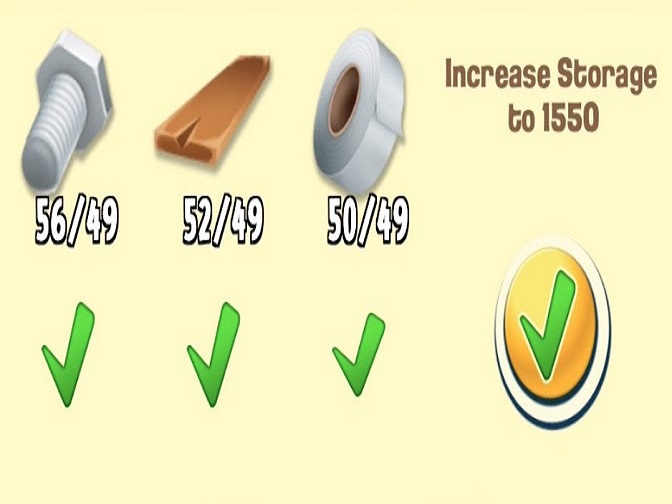 This article will share tips to get building materials fast for free on Hay Day without diamonds with you.
Tip 1: Gather crops, animal goods, products, tree, and bushes
When harvesting crops, collecting animal goods, products, fruit and berries from machines and trees, players would get XP and rare materials, including building supplies and expansion supplies. Therefore, running your farm is one of the leading solutions to get building supplies fast. As harvesting crops can collect building materials, check this guide to get them more automatically >>> How to automatically harvest crops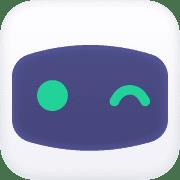 Hay Day Bot
- With Hay Day; - Auto plant (Wheat、Corn、Carrot); - Auto harvest; - Auto sell them in road-side shops; * Support all Android devices (Requirements: Android 7.0+)
2021-12-08 | V1.4.4
Get
Tip 2: Find mysterious red toolboxes for building materials
Have you noticed that there is one red toolbox with shine on your farm? There is a hidden reward in it every day, including coins, diamonds, building materials, land-cleaning supplies, etc. You could open it free twice a day. One is on your farm, and the other is on another's farm. After you open the box, go to another's farm right away. You will find it. If you would like to open more toolboxes, you need to pay with diamonds.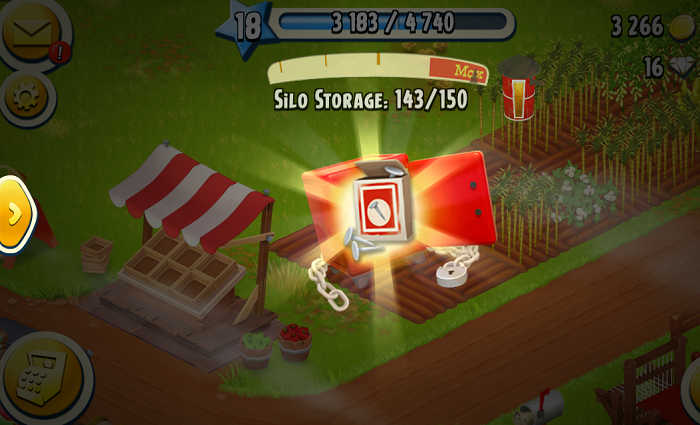 Tip 3: Watch ads near your mailbox to get building materials 
There is a shining pink ticket near your mailbox. There are game ads in it. After watching ads, you will get rewards. It doesn't always appear. If you see it, don't miss the chance to get building materials.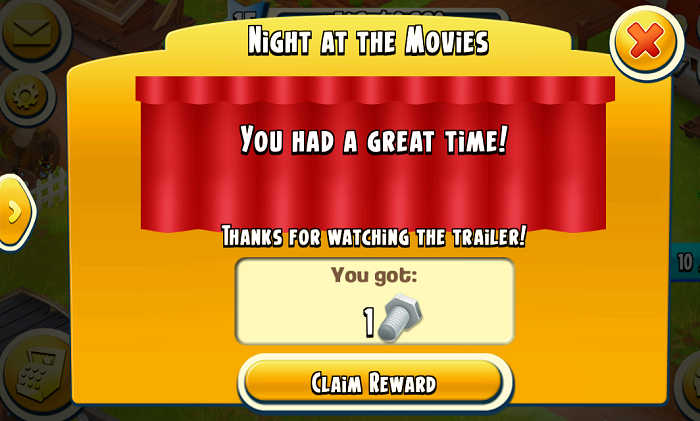 Tip 4: Join Farm Pass Season for Hay Day building materials
Farm pass seaon is the monthly event in Hay Day to reward players who completes its tasks. They rewards include building materials, land materials, diamonds, coins, experience points, decorations and booster cards etc.
Tip 5: Request building materials in Neighborhoods
A neighborhood is a group of 1 to 30 players. Players can join or create a neighborhood after unlocking level 10 and repair the neighborhood house by costing 200 coins. When you join one Neighborhood, you could request items to them for help from the neighborhood birdhouse, and see other members' requests to help them. Only can player request one time unless the previous finish. Otherwise, the second request will replace the last. You can also exchange the items with other memebers in the neighorhood.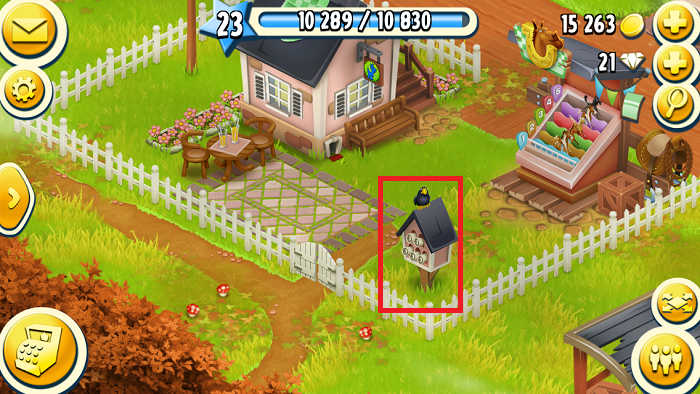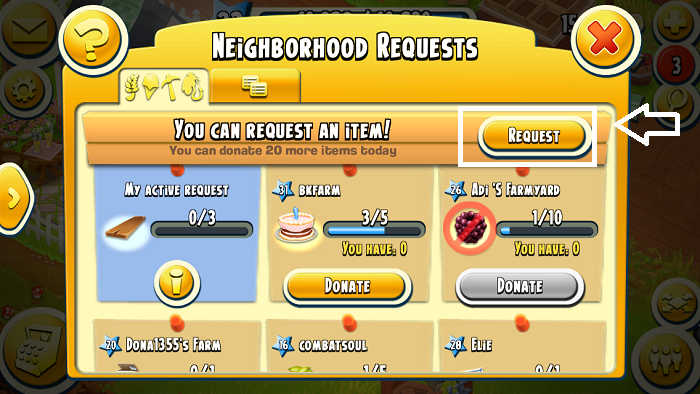 Tip 6: Level up and Wheel of Fortune
Hay Day has prepared one reward for players when people reach each mid-level threshold and level up, including building materials, land-clearing materials, and more. Check:  [Hay Day Tips] Hay Day Level up Fast Guide (the Fastest Way)
For Wheel of fortune. It is a truck stopping across your farm with lighting bulbs. Every day, there is one chance to get one reward on the Wheel like feed, produce, coins, vouchers, various supplies, and diamonds.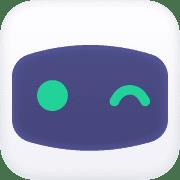 Hay Day Bot
- With Hay Day; - Auto plant (Wheat、Corn、Carrot); - Auto harvest; - Auto sell them in road-side shops; * Support all Android devices (Requirements: Android 7.0+)
2021-12-08 | V1.4.4
Get
Tip 7: Exchange Hay Day building materials with others
Exchange the building materials with your friends, FB Hay Day group players, or Neighborhood players if they have more. Now that Hay Day doesn't have an exchange system, your roadside shop and birdhouse in Neighborhood are places to exchange. For roadside shop exchange, if you have no idea how to do, check out how to transfer coins in roadside shops. It is the same process for building materials.
Tip 8: Running multiple accounts
If you have multiple accounts, you could sell the building materials to your main account when you need. Follow How to create multiple accounts to get more accounts.
Tip 9: Daily Dirt and Events for Hay Day building materials
Daily Dirt is the newspaper in Hay Day, which is the worldwide Hay Day players trading place. People can sell everything in their roadside shop and make an Ad on Daily Dirt. You would find building materials on Daily Dirt, which is in the mailbox on your farm. However, building materials are rare, so they can't be seen there frequently.
For Hay Day Events, there are often events taking place for players to get more benefits each week. There are two events where players could get building materials. There are Truck Deliveries Event and Town Visitors Event with mysterious gifts. During events, players will see orders with gifts icons. When fulfilling orders or visitors' needs, you will get rewards.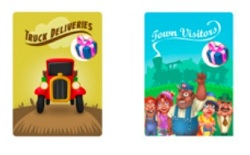 About more events tactics, see [Hay Day Tips] Tricks to Fast Make Coins by Hay Day Task. There are tactics suitable for Truck Deliveries Event and Town Visitors Event as well.
Tip 10: Purchase Hay Day building materials on Valley Shop
Valley is an another place that players can deliever supplies on Hay Day. It locates near roadside shop and is unlocked at experience level 25. Valley Shop is the shop on Valley, which is for players to buy materials, diamonds and decorations with Valley tokens. Note: the materials will be sold out even though you have enough tokens.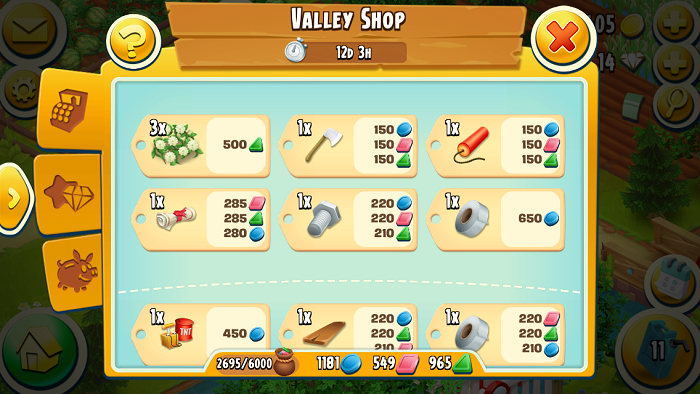 [More Hay Day Tips]
Everything about Hay Day Silo You Must See
Everything about Hay Day Barn You Must See
The Best Guide of Getting Hay Day Coins for Free
7 Fastest Ways to Get Hay Day Planks(Tutorial)
Hay Day Bot - Android Automatic Tool to Auto Farm
Hay Day Bot is an auto farming tool developed by Game Bots team. It can automatically plant, harvest, and sell wheat, corn and carrot for players 24/7 without stopping. What's more, Hay Day Bot can automatically play multiple Hay Day farms on one Android mobile!

As Hay Day Bot has those automatic features, Hay Day Bot is considered as an effective hacking tool and Hay Day cheat for the game resources like Hay Day coins, Hay Day supplies including building materials, land expansion materials, clearance materials etc.
Kick back and enjoy tons of resource without effort with Hay Day Bot!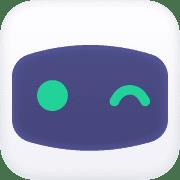 Hay Day Bot
- With Hay Day; - Auto plant (Wheat、Corn、Carrot); - Auto harvest; - Auto sell them in road-side shops; * Support all Android devices (Requirements: Android 7.0+)
2021-12-08 | V1.4.4
Get