Hay Day Bot is updated to V1.3.1 for customizing multiple Hay Day accounts. Now players can decide what crops to be planted, harvested and sold in each Hay Day farm. Run the newest Hay Day Bot in Game Bots! 

What are Features in Hay Day Bot?
- Auto plant(Wheat, Corn, Carrot);
- Auto harvest;(this feature is default when you choose the "plant" function. 
- Auto sell crops in road-side shops ;
- Compatility with foggy weather;
- Auto farm multiple Hay Day accounts 
* Support all Android devices (Requirements: Android 7.0+)
Notice: run bots under English enviroment.
How do you Use Hay Day Bot?
1. Download and install the Gamebots app on Android phone first.
2. Get Hay Day Bot from Gamebots.
Everybody has a 30-min free trial every 24 hours. 

3. After you get Hay Day Bot, please open Hay Day official version.
4. Adjust your fields based on the [About] requirements and set Hay Day Bot as you wish.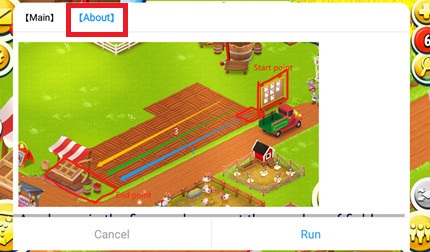 5. Run Hay Day Bot to automatically play Hay Day for you!
Hay Day Bot FAQ
1. Solutions to Game Bots Crash
2. How do You Use Hay Day Bot in the Background and Locked Screens?
3. Why can't Hay Day Bot Auto farm Hay Day Well?
If having suggestions and problems about Hay Day Bot, it is welcome to contact Game Bots team: gamebots.run@gmail.com